ORTHOPAEDIC BIOTECHNOLOGY LAB
Director: Dr. Laura De Girolamo
Research Topics
Biochemical and Genetic markers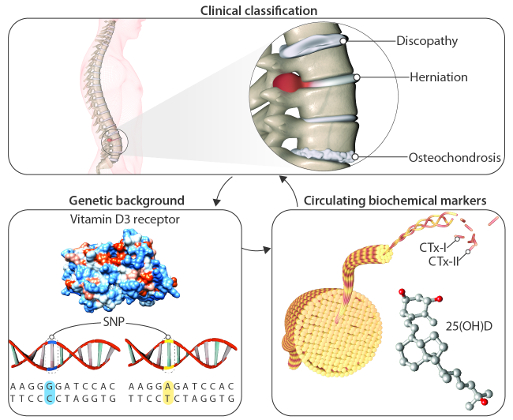 The evaluation of biochemical and genetic aspects of intervertebral disc degeneration-related pathologies, osteoarthritis and rheumatoid arthritis is performed to detect protein, cellular or genetic markers to be used for preventive, diagnostic or therapeutic purposes.
Particularly, an evaluation of the metabolic effects of the vitamin D on disc cells was analyzed to better understand the molecular connection between the presence of genetic variants in the vitamin D receptor gene (VDR) and the related biological effects leading to disc degeneration. An association between specific genetic variants of the VDR and disc degeneration-related pathologies was identified in an Italian case-control study and gender differences were highlighted. Specific VDR genotypes were observed as marker of a clinical condition named osteochondrosis. An accelerated degradation of type II collagen in patients with osteochondrosis was additionally observed in association with VDR genetic markers suggesting a role of these variants in the promotion of the structural alterations observed in the disc and endplate.
Furthermore, biochemical markers of cartilage and synovium degeneration are currently quantified, coupled with clinical and radiological assessment, in patients with osteoarthritis to evaluate the effect of the implant of autologous micro fragmented adipose tissue during arthroscopy for the treatment of osteoarthritis. Moreover, proteomic approaches are used to evaluate the interaction between the metabolic syndrome and osteoarthritis, particularly how diabetes acts on the articular tissues in these patients.
A new study concerning the identification of novel molecular targets for the development of new therapies in patients with rheumatoid arthritis has just started.