Director: Dr. Matteo Moretti
Arianna Barbara Cristina Lovati , Ph.D.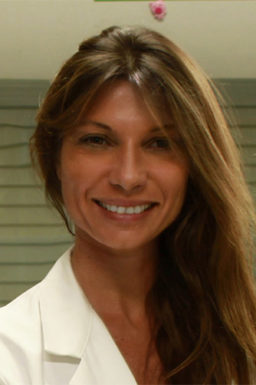 Bio
Dr. Arianna B. Lovati received her MD in Veterinary Medicine in 2002, and Ph.D. in 2010 at the University of Milan. She completed an Internship of equine arthroscopy at the Tierklinik (Germany), then at the Cornell University (USA) performing studies on mesenchymal stem cells. She collaborated with the University of Genoa and CRABCC S.r.l. working on animal models in orthopedics and cardiovascular surgery.
From 2009 to the present, she works as a preclinical researcher at the Cell and Tissue Engineering Laboratory, IRCCS Galeazzi Orthopedic Institute of Milan (Italy). She works on preclinical models and translational approaches in the musculoskeletal field. In particular, her research is focused on regenerative medicine, integration of prosthetic devices, and implant-related infectious diseases in orthopedics. She has also expertise in physical therapies for musculoskeletal disorders (ESWT, Tecar). She is responsible for technical aspects of laboratory approaches along with R&D activities associated with mesenchymal stem cells, scaffolds/prosthesis, laboratory and large animal models. From 2014 to the present, she works as PI of an Italian Ministry of Health funded project focused on the development of decellularized matrix for tissue substitution. She works as a consultant for several start-up companies in the field of tissue engineering. She is part of the Editorial Board of AIMS Cell and Tissue Engineering. Arianna B. Lovati has several refereed publications of researches in orthopedics.

Publications
Bocchiotti MA, Lovati AB, Pegoli L, Pivato G, Pozzi A (2018) A case report of multi-compartmental lipoma of the hand. Case Reports in Plastic Surgery and Hand Surgery 5:1, 35-38; DOI: 10.1080/23320885.2018.1469988.
Lovati AB, Bottagisio M, Maraldi S, Violatto M, Bortolin M, De Vecchi E, Bigini P, Drago L, Romanò CL (2018) Vitamin E Phosphate Coating Stimulates Bone Deposition in Implant-related Infections in a Rat Model. Clin Orthop Relat Res. 2018;476(6):1324-1338.
Lovati AB, D'Arrigo D, Odella S, Tos P, Geuna S, Raimondo S (2018). Nerve repair using decellularized nerve grafts in rat models. A review of the literature. FRONTIERS IN CELLULAR NEUROSCIENCE 10.3389/fncel.2018.00427.
Lovati AB, Drago L, Monti L, De Vecchi E, Previdi S, Banfi G, Romanò CL. Diabetic mouse model of orthopaedic implant-related Staphylococcus aureus infection. PLoS One. 2013 Jun 20;8(6):e67628.
Lovati AB, Romanò CL, Monti L, Vassena C, Previdi S, Drago L. Does PGE₁ vasodilator prevent orthopaedic implant-related infection in diabetes? Preliminary results in a mouse model. PLoS One. 2014 Apr 9;9(4):e94758.
Lovati AB, Bongio M, Pozzi A, Recordati C, Berzero GF, Moretti M. A comparative study of diagnostic and imaging techniques for osteoarthritis of the trapezium. Rheumatology (Oxford). 2015 Jan;54(1):96-103.
Lovati AB, Lopa S, Talò G, Previdi S, Recordati C, Mercuri D, Segatti F, Zagra L, Moretti M. In vivo evaluation of bone deposition in macroporous titanium implants loaded with mesenchymal stem cells and strontium-enriched hydrogel. J Biomed Mater Res B Appl Biomater. 2015 Feb;103(2):448-456.
Lovati AB, Romanò CL, Bottagisio M, Monti L, De Vecchi E, Previdi S, Accetta R, Drago L. Modeling Staphylococcus epidermidis-induced non-unions: subclinical and clinical evidence in rats. PLoS One. 2016 Jan 21;11(1):e0147447.
Lovati AB, Lopa S, Recordati C, Talò G, Turrisi C, Bottagisio M, Losa M, Scanziani E, Moretti M. In vivo bone formation within engineered hydroxyapatite scaffolds in a sheep model. Calcif Tissue Int. 2016 Aug;99(2):209-223.
Bottagisio M, Pellegata A, Boschetti F, Ferroni M, Moretti M, Lovati AB. A new strategy for the decellularization of large equine tendons as biocompatible tendon substitutes. Eur Cell Mater. 2016 Jul 8;32:58-73.
Lovati AB, Drago L, Bottagisio M, Bongio M, Ferrario M, Perego S, Sansoni V, De Vecchi E, Romanò CL. Systemic and local administration of antimicrobial and cell therapies to prevent methicillin-resistant Staphylococcus epidermidis-induced femoral nonunions in a rat model. Mediators Inflamm. 2016;2016:9595706.
Perucca Orfei C, Lovati AB, Viganò M, Stanco D, Bottagisio M, Di Giancamillo A, Setti S, de Girolamo L. Dose-Related and Time-Dependent Development of Collagenase-Induced Tendinopathy in Rats. PLoS One. 2016 Aug 22;11(8):e0161590.
Pellegata AF, Bottagisio M, Boschetti F, Ferroni M, Bortolin M, Drago L, Lovati AB. Terminal sterilization of equine-derived decellularized tendons for clinical use. Mater Sci Eng C Mater Biol Appl. 2017 Jun 1;75:43-49.