Director: Dr. Pedro Berjano & Prof. Claudio Lamartina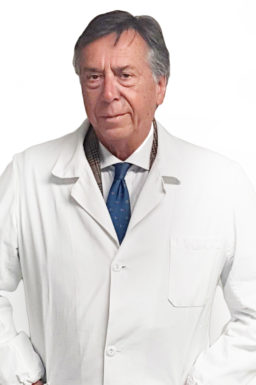 Bio
Since the graduation thesis and that of specialization in Orthopedics and Traumatology, Prof. Gian Luigi Siccardi has entirely dedicated his professional life to the study and treatment of spine problems.
Strong of a true passion and a vast experience in the treatment of Spinal Pathologies, gained alongside Prof. Alberto Ponte, he has expanded his professional training with numerous study visits in the most important Spine Surgery Centers in the United States, Canada, England, Switzerland, Sweden, France.
He was a lecturer at the School of Specialization in Orthopedics and Traumatology at the University of Siena and a consultant for Spine Surgery in Hospitals of several Regions.
It is currently:
-Head of the section for the study and treatment of adolescent deformities at the GSpine4 Division of the IRCCS Galeazzi Orthopedic Institute of Milan
-Consultant at the Villa Stuart Nursing Home
-Consultant at the FisioBIOS Center of Rome for Spine Surgery.
Publications
1: Ponte A, Orlando G, Siccardi GL. The True Ponte Osteotomy: By the One Who
Developed It. Spine Deform. 2018 Jan;6(1):2-11. doi: 10.1016/j.jspd.2017.06.006.
PubMed PMID: 29287812.
2: Boriani S, Palmisani M, Donati U, Tella G, De Iure F, Bandiera S, Siccardi G.
The treatment of thoracic and lumbar spine fractures: a study of 123 cases
treated surgically in 101 patients. Chir Organi Mov. 2000 Apr-Jun;85(2):137-49.
Review. English, Italian. PubMed PMID: 11569050.
3: Giacchino R, Navone C, Siccardi G, Santi C, Fabbri A. [Clinical case of
Mycobacterium minetti endocarditis]. Minerva Pediatr. 1983 Feb 28;35(4):167-72.
Italian. PubMed PMID: 6855715.
4: Parodi MP, Siccardi G, Battelli M. [Behavior of various immunological indices
in a group of patients with silicosis]. Arch Maragliano Patol Clin. 1975
Jul-Dec;31(2):179-206. Italian. PubMed PMID: 1244178.
5: Pannacciulli I, Paravidino GF, Siccardi G. [The desferrioxamine test in
patients with kidney diseases]. Minerva Med. 1971 Feb 21;62(15):683-90. Italian.
PubMed PMID: 5549142.
6: Paravidino GF, Siccardi G. [Enzymatic activity of the oxydative shunt in human
leukocytes of normal and pathological subjects and patients with G6PD deficiency
during the process of slow phagocytosis in vitro]. Haematol Lat. 1970
Jan-Mar;13(1):31-40. Italian. PubMed PMID: 5272967.
7: Siccardi G, Bruttini GP. [Microdetermination of the percentile volume of
centrifuged erythrocytes. Notes on a method]. Haematologica. 1967;52(5):393-400.
Italian. PubMed PMID: 4974480.